Driver's Ed: Training your dog to ride in the car
Allow new pets to become accustomed to the car gradually.
Start by putting your Cavalier King Charles Spaniel m the car with the motor off. Let him wander around and get familiar with all those "car smells."
Next time, let your pet get used to being in the car with the motor running but stationary.
Work up slowly to driving down with street holding your Cavalier.
Slowly accustom your Cavalier to a car seat and/or the restraints you have chosen to use.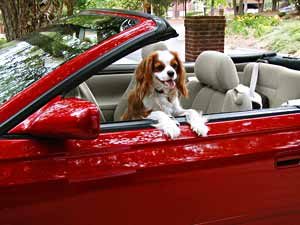 Your Cavalier King Charles Spaniel should always wear a collar and ID tags in the car. There's always a chance you might be separated from your dog while in an unfamiliar neighborhood.
Consider adding a temporary ID tag to your pet's collar with the phone number where you can be reached at your destination. (Bentley had a tag with my parent's phone number as well as a tag with my phone number.)
Pack essential supplies for your pet whenever traveling. Include a bottle of water, a water dish, some treats (in case your dog gets loose, you may need to lure him back to the car), and an extra leash.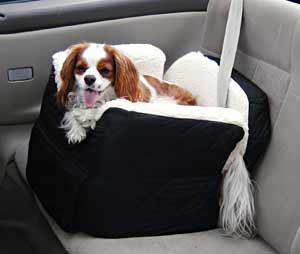 On long trips, try not to feed your pet for several hours before traveling to avoid an upset stomach. Bring ice cubes to quench your pet's thirst.
Consider adding sun shades to your car windows to keep your dog cool and comfortable while traveling.
Never, never, never leave your best friend alone in a parked car! Even in the shade with the windows slightly open, it's amazing how quickly a parked car can heat up to the point where it can be fatal to a small dog.
Travel with your dog's Pet Record and a photo in case your Cavalier gets lost, or you need to seek veterinary assistance out of town.
Save
Save
Save
Save