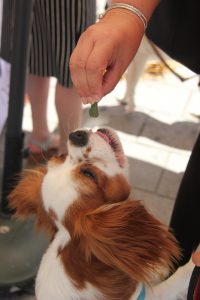 Giving your Cavalier King Charles Spaniel an occasional dog biscuit can be a sign of your affection, or a little helpful motivation during a training session.  But be sure to offer your Cavalier Spaniel a healthy dog treat that provides good nutrition and is safe for your pet to consume.
Here are some guidelines to follow:
Choose bite-sized, low-calorie, nutritious treats. Your Cavalier King Charles Spaniel will feel just as loved with a small treat as he will with a huge dog biscuit. Given the trend toward obesity in dogs, it's best to keep treats on the low-calorie side.
If you can't find dog biscuits in the size you want, cut or break them into smaller pieces.
Avoid Chemicals, Artificial Colors and Dyes
When Bentley was a puppy, I made the mistake of buying his treats at our local pet store. There were lots of cute little t-bone steaks, chicken leg-shaped treats and green toothbrushes, etc. But I found out the hard way that many of these treats were made with artificial colors and dyes, preservatives and chemicals that made them unhealthy choices.
Those treats may have been cute, but they gave Bentley an upset stomach – which I found out the hard way when Bentley couldn't digest them. To make matters worse, the artificial colors came through in his vomit, making it almost impossible to clean the stain out of the carpet.
Remember that the fun shapes are the product of sale & marketing aimed at pet owners, and doesn't translate into healthy options for your Cavalier King Charles Spaniel.
Buy the Wholesome Low-Fat Treats that I give to Bentley here.
Consider natural fruits and vegetables as treats. Bentley absolutely loves small pieces of carrots or green beans as a healthy treat!
Homemade Treats
Why not make your own healthy dog treats in your kitchen at home? That way, you can be sure to use natural ingredients and bake treats in whatever size you feel is best for your Cavalier Spaniel.
You can find lots of free recipes for dog treats on the internet, but here are a couple to get your stated:
Canine Carrot Cookies
2 cups carrots, boiled and pureed
2 eggs
2 Tablespoons of garlic, minced
2 cups all purpose flour (or rice flour or wheat flour)
1 cup rolled oats
1/4 cup wheat germ
Combine carrots, eggs and garlic. Mix until smooth. Add dry ingredients. Roll out on heavily floured surface and cut into bars or desired shapes. Bake at 300 degrees for 45 minutes or to desired crunchiness. The centers will continue to harden as they cool. Brush with egg white before baking for a glossy finish.
From Dog Fancy Magazine (February 1999)
Crunchy Meat Treats
1/2 cup nonfat powdered milk
1 beaten egg
1 1/2 cups rice flour
1/2 teaspoon garlic powder
1 teaspoon honey
1/2 cup water
5 teaspoons chicken or beef broth
1 jar of baby food – any meat flavor you like
Combine all ingredients well. Form into a ball and roll out on a floured surface. Cut into desired shapes. Bake at 350 degrees for 25 to 30 minutes. Cool.
From www.dog-training-breeds.com
Homemade Dog Biscuits
1 & 1/2 cups flour
3/4 cup oatmeal
1/4 cup wheat germ
1/3 cup peanut butter
1/4 cup vegetable oil
2 tablespoons honey
1/2 teaspoon baking powder
1/2 cup water
1 large egg
2 tablespoons milk
Preheat oven to 275 degrees. In a large bowl, combine the flour, oatmeal, wheat germ, peanut butter, vegetable oil, honey, baking powder and water. Mix thoroughly.
Roll out the dough to 1/2 inch thickness on a lightly floured surface. Cut into desired shapes and place on baking sheets.
In a small bowl, mix together the egg and milk to make a glaze. Brush glaze over the biscuits.
Bake for 40-50 minutes until biscuits are golden and firm. Cool.
From Cindi Roberts